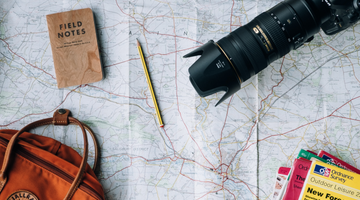 How to Travel Sustainably This Summer
With the temperature steadily rising and the first day of summer right around the corner, the Albatross Designs team has begun daydreaming about getting outdoors and making some summer travel plans. If you're also finding yourself in summer trip planning mode, you may be curious about how you can both achieve your summer adventure goals and also travel sustainably. 
Ways to Make Every Day Earth Day
While a lot of focus and eco-friendly efforts get put on Earth Day – and April in general – the habits or actions designated for this specific time of year don't have to be limited to just now. There are tons of small, daily changes we can make to slowly integrate an eco-friendly lifestyle into our everyday routine and help out our planet along the way!
5 Highlights of Albatross Take Back Ware
We've talked before about our Take Back Ware, the first product made in part from the upcycled blades we collect through the Albatross Blade Take Back Program. In addition to making a product that created a closed-loop system for the only semi-disposable item we sell (razor blades), we also wanted to use the production of Take Back Ware as an opportunity to design the most efficient, effective, and smart product possible. Here are 5 highlights of Albatross Take Back Ware: