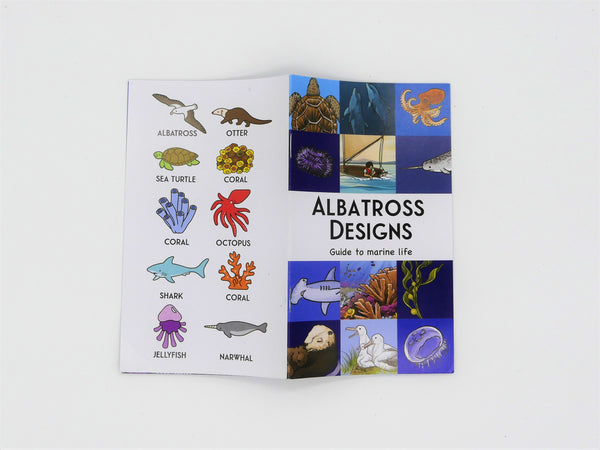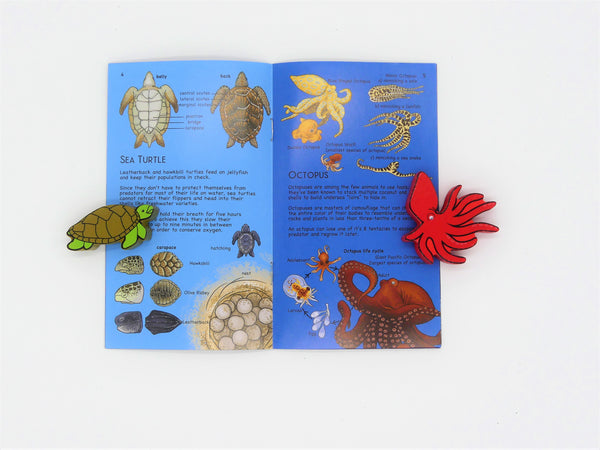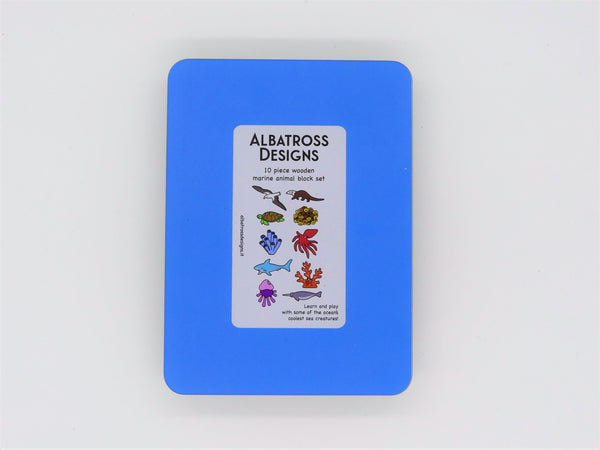 Ocean Animal Wooden Toy Set
Regular price
$ 34.99
Sale price
$ 44.99
Our Ocean Animal wooden toy set is a sustainable play alternative that kids 3+ will love. The set comes in a metal tin and includes 10 beech wood animal blocks in a hemp bag, a booklet with beautiful illustrations and educational information on each animal featured, and a paper play mat. 
With this toy set we aim to expose kids to the amazing animals that live in the sea and offer real-world stimulation in our digital age.  
Animals Included:
Albatross
Otter
Turtle
Octopus
Jelly Fish
Narwhal
Shark
Coral x 3
Why We Make Toys
Did you know that 90% of the toys on the market are plastic, and that the toy industry is the most plastic intensive industry in the world? [UNEP, 2014] Not only that, 80% of toys end up in landfills, incinerators and oceans before their useful life is up. Well, we aim to change this!
As the old saying goes: "We do not inherit the Earth from our ancestors, we borrow it from our children."  Albatross Toys aims to give kids an inspirational glimpse into the natural world that provides both education and real sensory experience. 
While we all benefit from many aspects of the digital age, we feel it is especially important to ensure our children also have the opportunity to play with more 'analog' toys. This type of play augments learning, imagination and motor skills.  
About Our Toys
Albatross Toys aims to combine natural materials with creativity, education, and the magic that is our natural world. Our toys use natural, non-toxic materials. They have CPC and EN71 certificates.  
Please note, this toy set includes small parts that can present a choking hazard. Please supervise the use of these toys at all times.
ABOUT ALBATROSS DESIGNS
Albatross Designs is a sustainable design company started by sailors and surfers who have a passion that is unyielding when it comes to doing what they can to 'save the environment' from today's many ecological and planetary environmental threats. They are proud of the fact that they created the world's first zero waste shaving system, and the world's first used blade take back program. Shaving is at the core of who they are, and they firmly believe in the benefits and experience of using a double edged shaving razor– nothing else feels better. And now, they seek to continue looking to design other sustainability promoting products– like shampoo bars that eliminate the plastic bottle and extra emissions from shipping the 'water part' of liquid shampoo and all natural toy sets, for example.