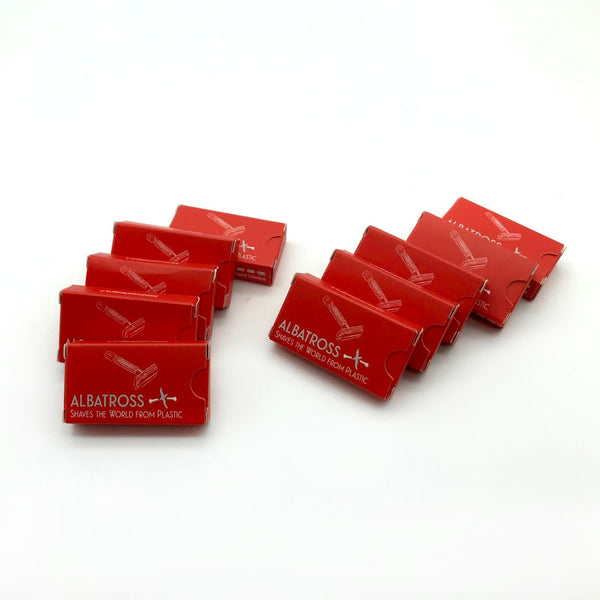 Replacement Blades - Annual Packs
Keep it simple and get all your blades for the year at once! Our annual replacement blade packs are designed for how frequently you shave. 
| | | | |
| --- | --- | --- | --- |
| Shaving Frequency  | # of Shaves Per Week  | # of Blade Packs in Annual Pack  | Annual Cost |
| Low  | 1-2 | 3  | $12.00 |
| Medium  | 2-4 | 5  | $20.00 |
| High  | 5-7 | 10 | $40.00  |
Each pack comes with 10 double-edged stainless steel razor blades. 
With our annual replacement blade pack, you will: 
Always be ready for your next shave! 

Save on shipping costs

Reduce emissions (yes, another way you can help the environment!)
How to Use
How to load a blade in a butterfly style razor: 
Twist the bottom of the shaver handle to open the wings of the blade holder.

Simply place a blade (be careful - it's sharp!) on the platform and twist the bottom in the opposite direction to tighten the blade holder wings over the blade. 

You're ready to shave!
How to load a blade in a 3-piece style razor: 
Unscrew the handle from the two blade holding plates.  

Place the blade (be careful it's sharp!) between the blade holding plates and screw the handle back in.  

You're ready to shave!
Blade Take Back Program 
Introducing the world's first zero-waste razor solution! Each Albatross razor comes with 10 free blades and an envelope to collect your used blades in. The used blades can then be sent back or dropped off at a participating collection site. 
Each return envelope can hold a maximum of 40 blades (4 blade packs). 
We use the Take Back metal to make new (non-razor) products that have direct environmental benefits. We don't just recycle. We upcycle! Learn more about our sustainable Take Back Ware.
We appreciate your participation in the program and your commitment to helping rid our earth of plastic! 
Learn more about the Blade Take Back Program.
ABOUT ALBATROSS DESIGNS
Albatross Designs is a sustainable design company started by sailors and surfers who have a passion that is unyielding when it comes to doing what they can to save the environment from today's many ecological and planetary environmental threats. They are proud of the fact that they created the world's first zero waste shaving system, and the world's first used blade take back program. Shaving is at the core of who they are, and they firmly believe in the benefits and experience of using a double edged shaving razor– nothing else feels better. And now, they seek to continue looking to design other sustainability promoting products– like shampoo bars that eliminate the plastic bottle and extra emissions from shipping the 'water part' of liquid shampoo and all natural toy sets, for example.