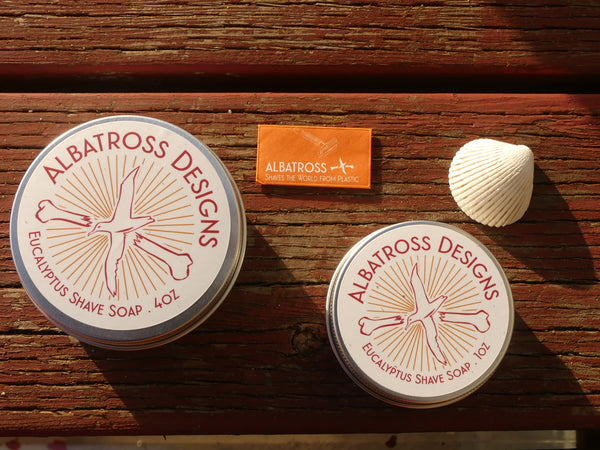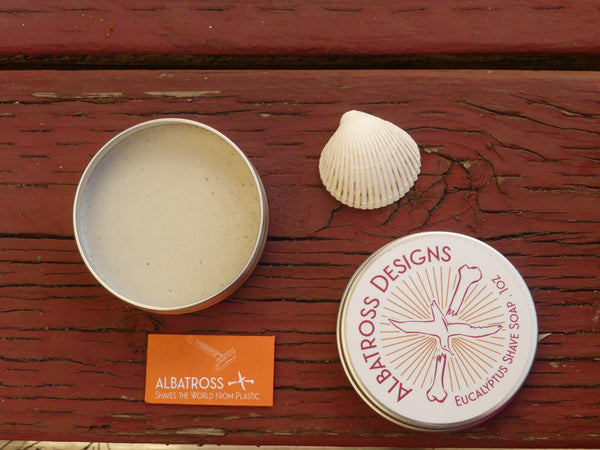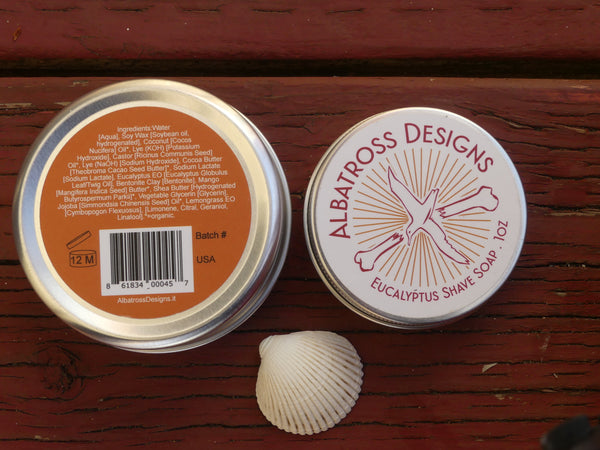 Inspired by California's coastal eucalyptus groves.  Lubricates effectively, lathers luxuriously and soothes like nothing else.  

Just wet your hands and rub on the soap to create a thick lather, or better yet use our vegan shaving brush to make an even thicker lather. 
Surf trips on the California coast where we often camp in eucalyptus groves near the ocean inspired us to make this shave soap. Waking up to the scent of Eucalyptus and the sound of the ocean evokes only the best of vibes and mental outlook. Our Shave Soap is not overpowering, yet invigorates with a calming energy and pleasantness. We love it and guarantee this will enhance your plastic-free shaving experience!
This shave soap is available in 1 oz. and 4 oz. sizes. Please note we use slightly oversized tins so that there is enough room in the tin to make a thick lather. Tins are filled by weight and not to the top.
Aromatics:
Fresh, strong, citrus-like, herbaceous-grassy aroma with a delicate but distinct sweetness.
Ingredients:
Water, Soy Wax, Coconut Oil*, Lye [Potassium Hydroxide], Castor Oil*, Lye [Sodium Hydroxide], Cocoa Butter*, Sodium Lactate, Eucalyptus EO, Bentonite Clay, Mango Butter*, Shea Butter*, Vegetable Glycerin, Jojoba Oil*, Lemongrass EO                                        [* Organic] [EOs are EcoCert/COSMOS approved]
Other Sustainability Aspects:
Made with responsibly sourced, plant-based oils. No preservatives, no synthetics. Palm Oil Free!  Long lasting. 100% Plastic Free.  American made. Made with Organic ingredients. And because you add the water our shaving soaps help to reduce transportation emissions (less weight to haul).
ABOUT ALBATROSS DESIGNS
Albatross Designs is a sustainable design company started by sailors and surfers who have a passion that is unyielding when it comes to doing what they can to 'save the environment' from today's many ecological and planetary environmental threats. They are proud of the fact that they created the world's first zero waste shaving system, and the world's first used blade take back program. Shaving is at the core of who they are, and they firmly believe in the benefits and experience of using a double edged shaving razor– nothing else feels better. And now, they seek to continue looking to design other sustainability promoting products– like shampoo bars that eliminate the plastic bottle and extra emissions from shipping the 'water part' of liquid shampoo and all natural toy sets, for example.