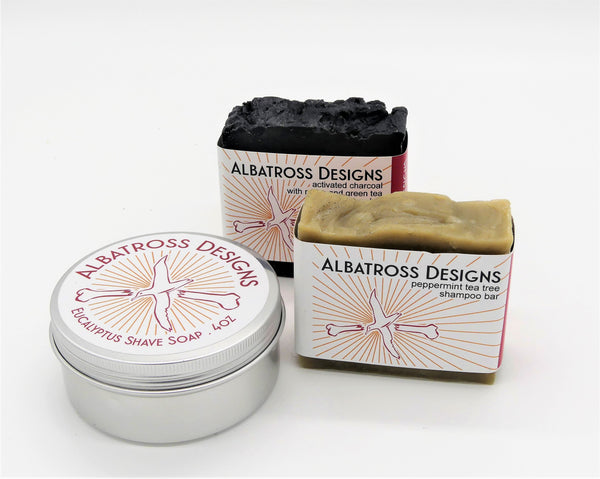 Regular price
$ 43.00
Sale price
$ 48.00
Our zero waste soap kit includes each of our incredible soaps at a 10% discount for purchasing in the kit. 
The kit includes:
4.5 oz. Peppermint Tea Tree Conditioning Shampoo Bar
4.5 oz. Activated Charcoal and Green Tea Face and Body Soap
4 oz. Eucalyptus Shave Soap
All of the above soaps utilize the power of natural oils, herbs, wildflowers and clays to protect, nourish and heal your skin. 
ABOUT ALBATROSS DESIGNS
Albatross Designs is a sustainable design company started by sailors and surfers who have a passion that is unyielding when it comes to doing what they can to 'save the environment' from today's many ecological and planetary environmental threats. They are proud of the fact that they created the world's first zero waste shaving system, and the world's first used blade take back program. Shaving is at the core of who they are, and they firmly believe in the benefits and experience of using a double edged shaving razor– nothing else feels better. And now, they seek to continue looking to design other sustainability promoting products– like shampoo bars that eliminate the plastic bottle and extra emissions from shipping the 'water part' of liquid shampoo and all natural toy sets, for example.