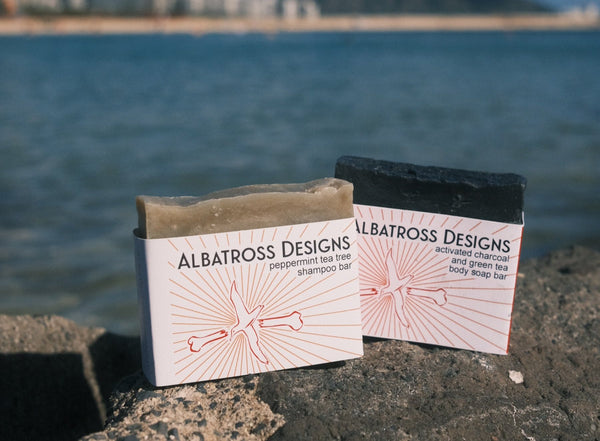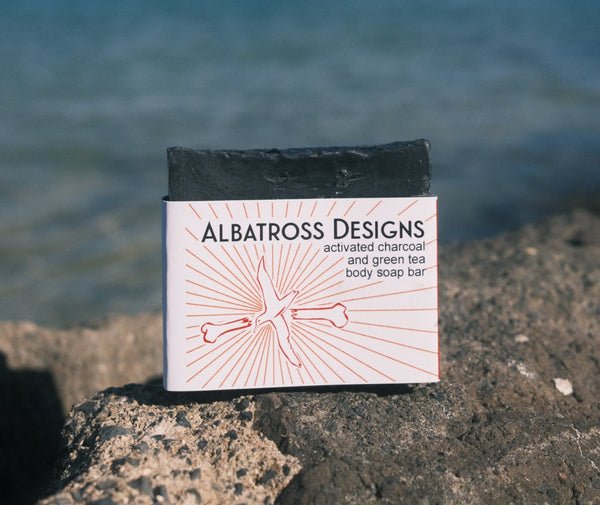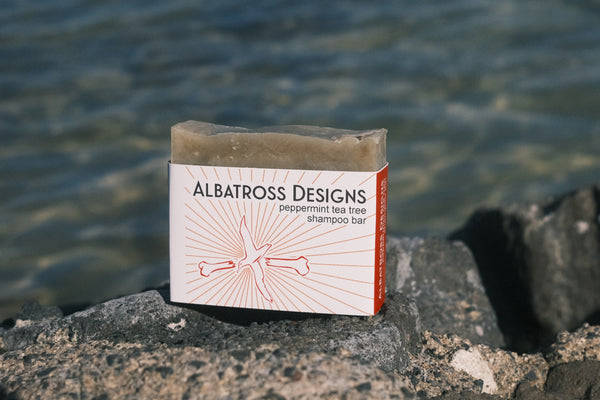 The Happier Together Soap Set
The Happier Together Soap Set includes 1 bar each of our peppermint, tea tree shampoo bar and our charcoal, green tea deep-cleaning face and body bar.
In designing these two soaps we set out to create varieties that would solve all of our bathing needs. We also sought to find an aroma profile appropriate for 365 days a year use. Packed with herbs and nutrients, you'll literally look forward to showering just so you can smell these amazing soaps and awaken a gentle energy that's ready to conquer the day-- gracefully and with style!
PEPPERMINT TEA TREE SHAMPOO BAR:

Made with moisturizing oils, healing herbs and essential oils this wonderfully smelling shampoo bar will leave your hair feeling clean, silky and smooth. It is gentle enough to use every day on normal hair, and to be honest it is a great soap for the rest of your body too!
Aromatically, this shampoo bar aims to bring calming energy to your daily routine. The peppermint and tea tree essential oils  invigorate, but are not overdone so that your senses are pleasantly awakened to a state of clear-headed alertness. The herbal mixture aims to further the health and repair of both your hair follicles, scalp and greater skin.

You can either rub the bar directly on your hair and then lather, or make a lather in your hands first and then massage into hair. 
More about Bar Shampoo
Functionally Bar Shampoos work the same as any quality liquid shampoo, they're just better for the planet because they are more efficient to ship (no extra water weight to move around) and are able to be distributed without any plastic bottles or other similar packaging. One tip though, be sure to use a soap dish that drains well so that your soap does not sit in a pool of water in the shower-- this will greatly increase the lifespan of your soap bar!
Ingredients:                                                                                                                                    Water, Coconut Oil*, Rice Bran Oil, Castor Oil*, Shea Butter*, Lye [Sodium Hydroxide], Avocado Oil, Apricot Kernel Oil, Hemp Oil*, Sodium Lactate, Sugar, Peppermint EO, Bentonite Clay, Kaolin Clay, Jojoba Oil*, Tea Tree EO, Argan Oil*, Stinging Nettle, Rosemary, Burdock Root, Horsetail, Comfrey Leaf
CHARCOAL, GREEN TEA FACE & BODY BAR:
Our activated charcoal soap with green tea is a fantastic cleansing soap for your face and body. Activated charcoal detoxes your skin. Green tea is renowned for its antioxidant, anti-inflammatory, and antibacterial properties. Rosemary has anti-inflammatory and healing properties. Kaolin clay will help to very gently slough away dead skin cells while also absorbing impurities from your pores.
All-in-all this soap is a powerhouse for the skin.
Ingredients:                                                                                                                            Water, Rice Bran Oil, Coconut Oil*, Shea Butter*, Lye [Sodium Hydroxide], Castor Seed Oil*, Avocado Oil, Activated Charcoal, Sodium Lactate, Sugar, Jojoba Oil*, Kaolin Clay, Peppermint EO, Lavender EO, Rosemary EO, Tea Tree EO, Green Tea Extract
[* Organic] [EOs are ECOCERT/COSMOS approved] [Herbs used are wildcrafted or organic as possible, though supply  can vary based on availability, so we refrain from labeling them as organic]