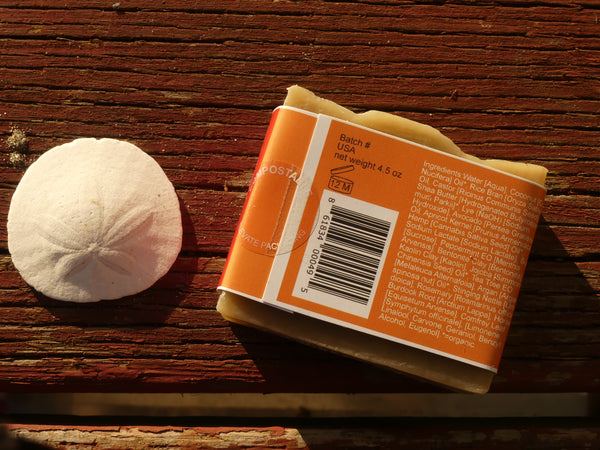 Peppermint Tea Tree Shampoo Bar
Made with moisturizing oils, healing herbs and essential oils this wonderfully smelling shampoo bar will leave your hair feeling clean, silky and smooth. It is gentle enough to use every day on normal hair, and to be honest it is a great soap for the rest of your body too!
Aromatically, this shampoo bar aims to bring calming energy to your daily routine. The peppermint and tea tree essential oils  invigorate, but are not overdone so that your senses are pleasantly awakened to a state of clear-headed alertness. The herbal mixture aims to further the health and repair of both your hair follicles, scalp and greater skin.

You can either rub the bar directly on your hair and then lather, or make a lather in your hands first and then massage into hair. 
More about Bar Shampoo
Functionally Bar Shampoos work the same as any quality liquid shampoo, they're just better for the planet because they are more efficient to ship (no extra water weight to move around) and are able to be distributed without any plastic bottles or other similar packaging. One tip though, be sure to use a soap dish that drains well so that your soap does not sit in a pool of water in the shower-- this will greatly increase the lifespan of your soap bar!
Ingredients:                                                                                                                                    Water, Coconut Oil*, Rice Bran Oil, Castor Oil*, Shea Butter*, Lye [Sodium Hydroxide], Avocado Oil, Apricot Kernel Oil, Hemp Oil*, Sodium Lactate, Sugar, Peppermint EO, Bentonite Clay, Kaolin Clay, Jojoba Oil*, Tea Tree EO, Argan Oil*, Stinging Nettle, Rosemary, Burdock Root, Horsetail, Comfrey Leaf
[* Organic] [EOs are ECOCERT/COSMOS approved] [Herbs used are wildcrafted or organic as possible, though supply  can vary based on availability, so we refrain from labeling them as organic] 
ABOUT ALBATROSS DESIGNS
Albatross Designs is a sustainable design company started by sailors and surfers who have a passion that is unyielding when it comes to doing what they can to 'save the environment' from today's many ecological and planetary environmental threats. They are proud of the fact that they created the world's first zero waste shaving system, and the world's first used blade take back program. Shaving is at the core of who they are, and they firmly believe in the benefits and experience of using a double edged shaving razor– nothing else feels better. And now, they seek to continue looking to design other sustainability promoting products– like shampoo bars that eliminate the plastic bottle and extra emissions from shipping the 'water part' of liquid shampoo and all natural toy sets, for example.