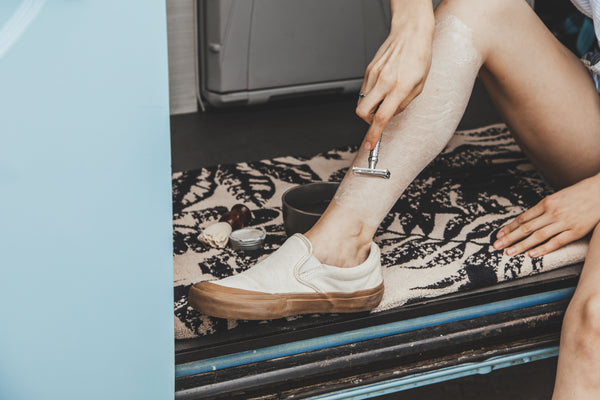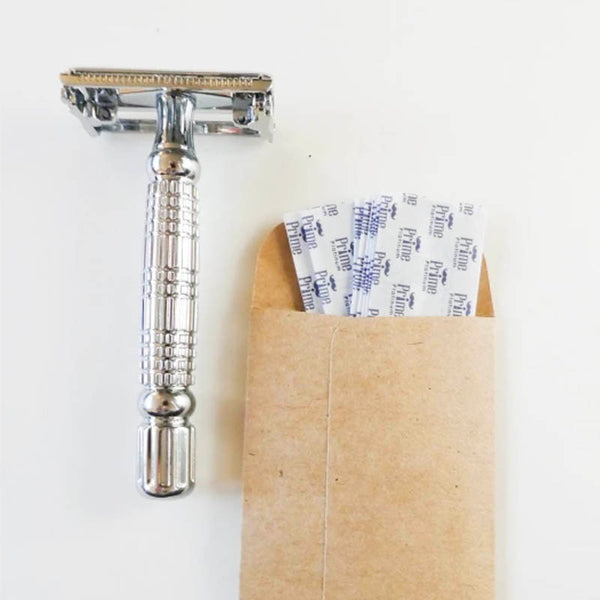 Zero Waste Butterfly Safety Razor
The Flagship Butterfly safety razor is not just beautiful; it's a premium plastic-free razor that performs flawlessly.  
At 3.5" in length, the Butterfly is our most popular model as it handles every shaving situation well. 
The Butterfly offers the easiest solution for replacing your blade with a quick bottom twist to secure it.  
Benefits: 
For all genders & shaving needs

Delivers a close, razor burn-free shave  

Built to last with a high-polished finish (no rust ever!) 

Comes with 10 reusable razor blades & a hemp storage bag 

Fits all standard double-edge safety razor blades 

Completely plastic-free shaving kit
How to Use a Butterfly Safety Razor
How to load a blade in a butterfly style safety razor: 
Twist the bottom of the shaver handle to open the wings of the blade holder.

Simply place a blade (be careful - it's sharp!) on the platform and twist the bottom in the opposite direction to tighten the blade holder wings over the blade. 

You're ready to shave!
Get your replacement blades for only $0.30 per blade! 
How to shave: 
Wet hair with warm water.  

Lather shaving cream onto skin (A brush will help create a better lather and to lift the hair).  

Hold the blade at a 30 degree angle and let the weight of the handle do the work.  Do NOT pull the razor across your skin like you would with a plastic disposable razor.  

Use short strokes, about 2 inches long, especially when you first switch to using a safety razor.  

Finish with after shave ointment or lotion.
Excited about plastic-free shaving but in need of some help? We got you! Watch this video to learn how to shave with a safety razor.
How to take care of your zero-waste razor: 
Rinse all the soap/ hair/ gunk from your razor after each use.

Shake your razor to dry it. Using a towel to dry will make your blades duller. 

Ensure your razor is stored in a dry spot to increase the life of your blades. 

If you notice any corrosion, rub that spot vigorously with a terry cloth towel, or a small piece of emery cloth.

Ensure your razor is clean and dry to make it last longer!
Frequently Asked Questions
Shipping 
You will receive an email notification once your order has been shipped. Most orders ship within 5 business days. All orders arrive in plastic-free packaging.
Shipping within the US is $5.99 or FREE with any order over $65. 
International shipping is $15. International order delivery times vary and are subject to customs processing time and fees. 
Returns & Warranty 
Due to the sanitary nature of our product, we do not accept any returns or issue refunds.
We do have a Limited Lifetime Warranty if you experience any manufacturing related issues. Please see our main FAQ page for more info.
Blade Take Back Program 
Introducing the world's first zero-waste razor solution! Each Albatross safety razor comes with plastic-free packaging, 10 free blades and an envelope to collect your used blades in. The used blades can then be sent back or dropped off at a participating collection site. 
Each return envelope can hold a maximum of 40 blades (4 blade packs). 
We use the Take Back metal to make new (non-razor) products that have direct environmental benefits. We don't just recycle. We upcycle! Learn more about our sustainable Take Back Ware. 
We appreciate your participation in the program and your commitment to helping rid our earth of plastic! 
Learn more about the Blade Take Back Program.
ABOUT ALBATROSS DESIGNS
Albatross Designs is a sustainable design company started by sailors and surfers who have a passion that is unyielding when it comes to doing what they can to 'save the environment' from today's many ecological and planetary environmental threats. They are proud of the fact that they created the world's first zero waste shaving system, and the world's first used blade take back program. Shaving is at the core of who they are, and they firmly believe in the benefits and experience of using a double edged shaving razor– nothing else feels better. And now, they seek to continue looking to design other sustainability promoting products– like shampoo bars that eliminate the plastic bottle and extra emissions from shipping the 'water part' of liquid shampoo and all natural toy sets, for example.