Albatross Blade Take Back Program
HOW TO RECYCLE YOUR BLADES WITH ALBATROSS DESIGNS
Albatross customers receive a small envelope with their blades. Used blades can be collected in this envelope. When you take an old blade out of your razor to replace it with a new blade, please try to wrap your used blade in the paper wrapper that the new blade came in for extra protection. 
Once your Take Back envelope is full (approximately 30 to 40 blades should fit in the small Albatross envelope), simply insert the small envelope into any other envelope at least 3.5" X 5" large (USPS minimum) and send to:
Albatross Designs, PO Box 22130, Oakland, CA 94623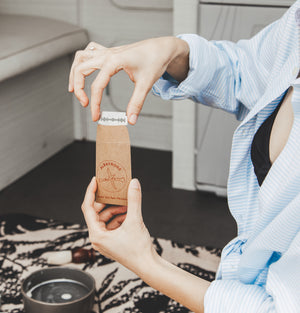 If you are sending another brand's blades to us, please make sure to use at least a double envelope to send us back your blades. You can store and ship your blades in a variety of containers, such as used pill bottles, a mint tin, a used soup can duct taped on one end, or by using a heavy weight internal envelope inserted into another envelope as is our standard procedure.
Check If There Is a Blade Take Back Program Drop Off Location Near You.
We accept ALL BRANDS of double and single edged shaving blades.  
Moreover, we are always interested in collaboration with bright minds. If you think you have a good idea for a product to be made from our used blades and want to talk about it, please e-mail us at hello@albatrossdesigns.it with "TAKE BACK PRODUCT IDEA" in the subject line.
How It Started
The Albatross Blade Take Back Program is the world's first used shaving blade take back program.
The program was originally conceived because not all municipal recycling companies currently accept used razor blades and we wanted to ensure a totally zero waste and cradle-to-cradle shaving system. So far the program has been kicking proverbial butt, and we are amazed by the amazing response from our truly incredible customers. We've even inspired other shaving companies to collect used blades from their customers too.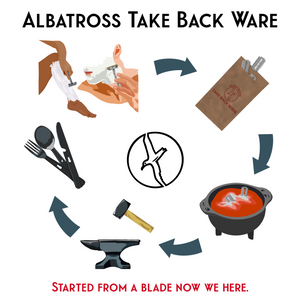 razor blades upcycling
But, from the inception of this program we had more ambitious goals. Namely, that we wouldn't just recycle the steel through a downward spiral of convention, but upcycle it into products as robust or more robust as the blades themselves. And, of course, if we are designing these subsequent products, they, too, would need to necessarily create a direct, positive environmental impact. Almost a decade later the Albatross Blade Take Back Program is now one of the coolest things about our company because we are able to keep an essentially infinitely reusable resource (high quality stainless steel) in circulation and create new products with deep, unique stories.
check out our plastic-free utensils set
In December 2019 we introduced our first product made in part from Upcycled Shaving Blades: Albatross Take Back Ware. Like all Albatross Designs products, Take Back Ware creates a positive environmental impact. We have set the goal of Taking Back the number of blades we produce each year, and as such encourage you to either drop your used blades off at a Drop Off location near you or send them back to us.
Our reusable utensil set helps address the more than 150 Million plastic utensils thrown away each day in the US alone!
SHOP take back ware