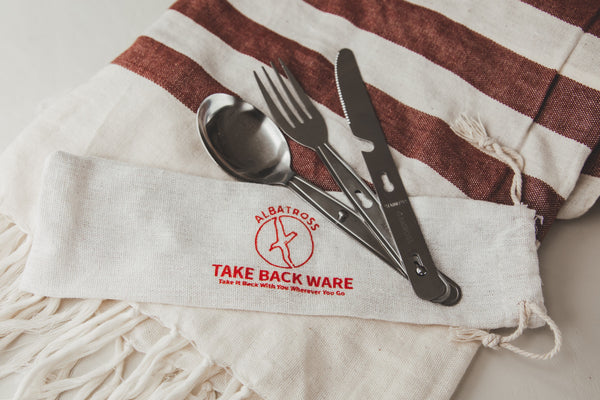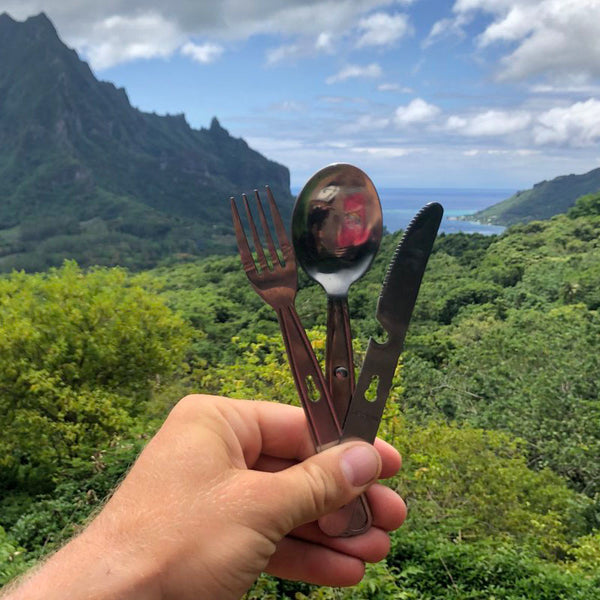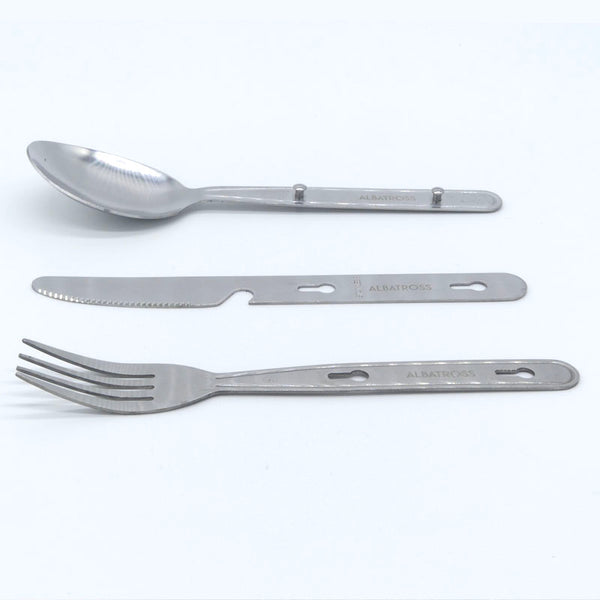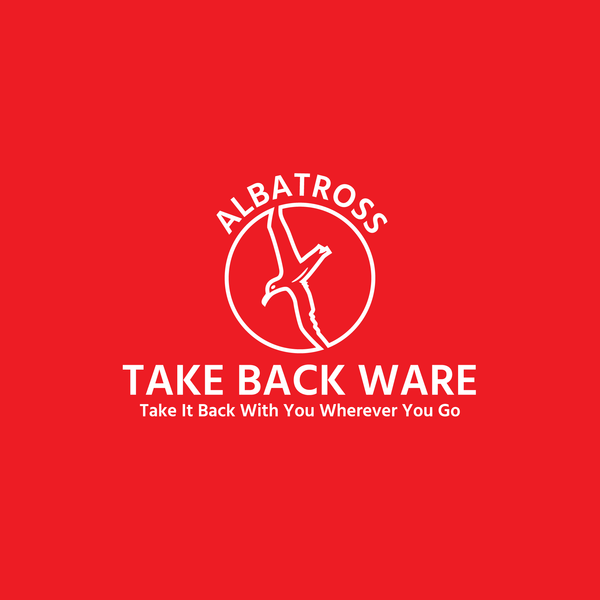 Albatross Take Back Ware is a reusable plastic-free silverware set designed so you can easily Take It Back With You Wherever You Go.
We offer a discount on 3 sets to encourage you to share this easy change with your friends and family. 
Your new, mobile fork, spoon and knife clip together for compact transport and come in a hemp bag that you can keep them in or not for on-the-go eating. 
Take Back Ware is quite special though because it is made in part from upcycled shaving blades that we collected via the Albatross Blade Take Back Program. The razor blades collected get melted down into molten steel and combined with new steel to make Take Back Ware. As such, we recently set the ambitious goal of getting back 100% of the blades we sell; this level of circular use is exactly the type of Big Systems shift we seek to create with this product.
Through Albatross Take Back Ware, we hope to promote the circular economy and normalize the idea of having reusable silverware with you when you, say, order take out, eat lunch at work and school, or are just going about your day and get hungry.
WHY?
100 Million plastic utensils are thrown away every day in the United States alone. 
"Compostable" plastics may be better than those derived from petrochemicals, but the fact is we need to rethink the disposable economy; it is simply a waste of resources.
Bringing your Take Back Ware with you is actually pretty easy to do. We hope you have a reusable water by now and bringing your Take Back Ware with you is pretty similar.
ABOUT ALBATROSS DESIGNS
Albatross Designs is a sustainable design company started by sailors and surfers who have a passion that is unyielding when it comes to doing what they can to 'save the environment' from today's many ecological and planetary environmental threats. They are proud of the fact that they created the world's first zero waste shaving system, and the world's first used blade take back program. Shaving is at the core of who they are, and they firmly believe in the benefits and experience of using a double edged shaving razor– nothing else feels better. And now, they seek to continue looking to design other sustainability promoting products– like shampoo bars that eliminate the plastic bottle and extra emissions from shipping the 'water part' of liquid shampoo and all natural toy sets, for example.